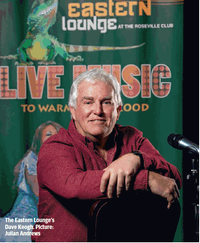 EASTERN LOUNGE

North Shore Times
4 October 2018
Live music will survive on the north shore after the popular Eastern Lounge secured a new venue at Willoughby.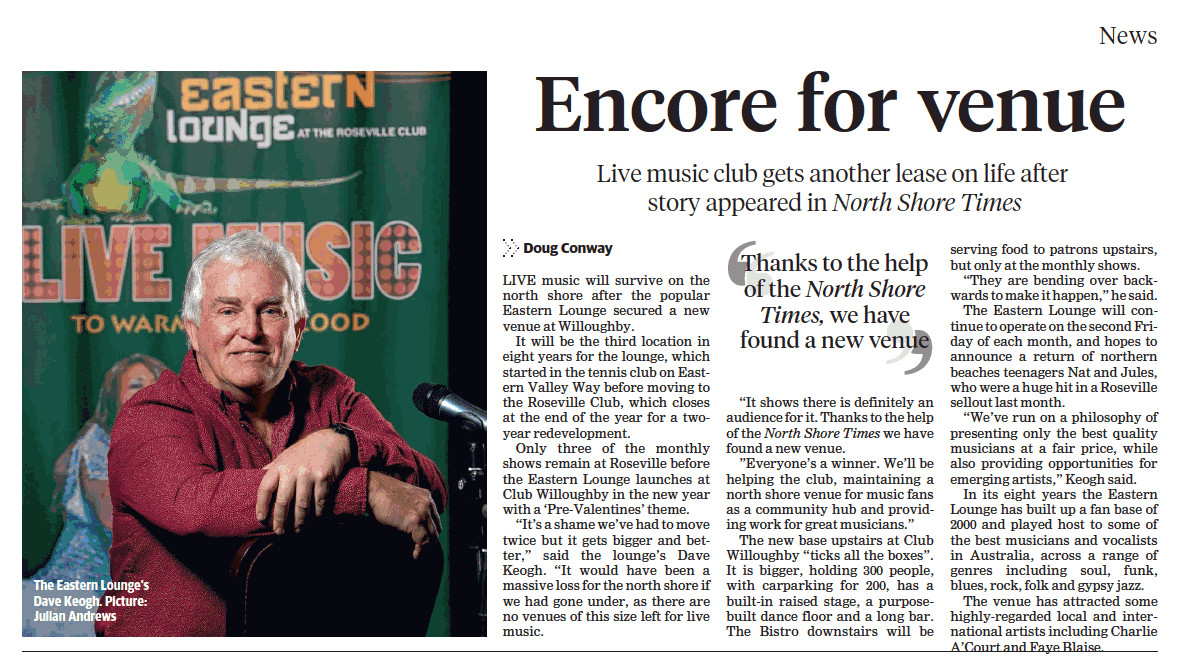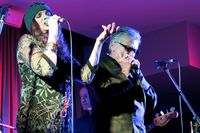 BRAD SYKE ON EASTERN LOUNGE

Facebook @sykeonstage


01 July 2016
EASTERN LOUNGE (CONTINENTAL ROBERT SUSZ & THE TEENAGE ORGAN PARTY; LIZA OHLBACK BAND, FEATURING JEZ EDWARDS & RICK MELICK); FRIDAY, JUNE 17.
Continental Robert Susz has always been one of the more peripatetic cats on the scene: a kind of goulash-eating Dave Graney; a Hungarian peacock, steeped in a soul-blues groove of his own distillation. Once upon a time, one might've expected him to appear on a big stage, with marquee acts, including his own; the Dynamic Hypnotics (which once had The Catholics' bass-playing backbone, Lloyd Swanton, in its ranks), Mighty Reapers and Continental Blues Party among those that will spring most readily to mind, ahead of of, say, Rugcutters, or Humdinger Dogs. Yet, here he was, on a miserable mid-winter's evening in the deceased north shore suburb of Roseville, at its erstwhile rissole, which, but once a month takes on the guise of (impresario, Dave Keogh's) Eastern Lounge, both packing and rocking out. click here to view full article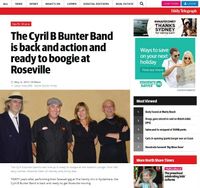 CYRIL B BUNTER BAND

Daily Telegraph


08 March 2015
THIRTY years after performing their farewell gig at The Family Inn in Rydalmere, the Cyril B Bunter Band is back and ready to get Roseville moving.
The Bunters, as their fans affectionately called them, are all about the blues and boogie and sending people out the door with a smile on their face. Vox and bass player Jimmy Bee, known on stage as Jake Grinder, said drummer Rosscoe Clark (Chester) and lead and slide guitarist Gary Lothian (Raggy La Pells) had rejoined, but they were unable to find their originally keyboardist. click here to view full article ...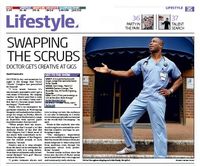 VICTOR STEELE

North Shore Times


6 March 2015
The Victor Steele Band, the man who became a YouTube sensation by sending up 'X-Factor' after receiving less than satisfactory treatment from the panel of judges on that reality show. Victor has a warm, soulful voice that recalls Anthony Kiedis of the Red Hot Chili Peppers. He writes and sings from the heart and donates money from CD sales to the UN's refugee agency, UNHCR.
click here to view full article ...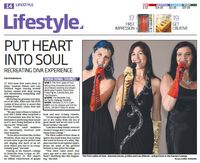 THE FIRST LADIES OF SOUL

North Shore Times


14 January 2015
Performed by three of Sydney's finest female vocalists - Jo Elms, Liza Ohlback and Amanda Easton - The First Ladies of Soul pays tribute to the great original female soul singers. Full of divine harmonies and brilliant musicianship, this stunning musical revue celebrates the music and showcases all the hits of Aretha Franklin, Diana Ross, Etta James, Gladys Knight, Roberta Flack, Natalie Cole, Freda Payne, Dusty Springfield, Martha & the Vandellas and more.
click here to view full article ...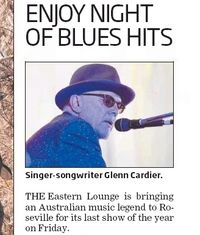 GLENN CARDIER
North Shore Times


12 November 2014
Australian music legend GLENN CARDIER and his band The Sideshow again closed the year at Eastern Lounge (2nd year running) with a mind-blowing concert-length set of the best homegrown Roots, Blues and Folk-Rock you could ever hear. Liam McKahey & The Bodies (from Ireland via Canberra) added to a night of truly outstanding original music.
click here to view full article ...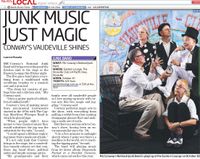 MIC CONWAY
North Shore Times


8 October 2014
Sadly, Mic himself became extremely ill this day and was a last minute withdrawal from the program... but in true 'the show must go on' fashion, his National Junk Band plus friends marshalled their considerable talents and provided a wonderful show full of oddball original music and covers, played on an array of instruments few Lounge Lizards had ever laid eyes on. The ever-popular Luke Escombe opened the show with his one-man mix of brilliant originals and 'laugh-til-you-stop' comedy.
click here to view full article ...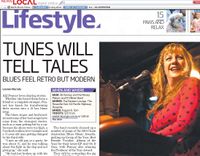 ALI PENNEY
North Shore Times


6 August 2014
Blues and Boogie returned to Eastern Lounge with dual headline acts ALI PENNEY & THE MONEYMAKERS and THE PJ OBRIEN BAND. Between them, Ali and PJ (Paul) have won every award going for this style of music and they definitely play it better than most.
click here to view full article ...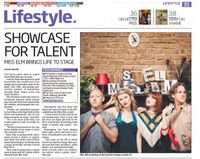 MISS ELM BRINGS LIFE TO STAGE
North Shore Times


6 June 2014
YOU never know what to expect when Miss Elm are on stage.
Lead by Erin Harrington in gold go-go boots, she vocally soars over snappy piano melodies, flute flourishes, bass riffs, and pulsing percussion courtesy of band-mates Lucinda Bopf, James Lord, and James Peeters...
click here to view full article ...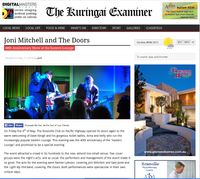 JONI MITCHELL & THE DOORS
The Kuringai Examiner


11 May 2014
The event attracted a crowd in its hundreds to the now, almost-too-small venue. Two cover groups were the night's acts, and as usual, the performers and management of the event made it so good. The acts for the evening were Rainee Lyleson, covering Joni Mitchell, and Sam Joole and the Light My Fire band, covering The Doors. Both performances were spectacular in their own, unique ways...
click here to view full article ...